The K2 Ski Barn
Viking Heliskiing guide's office and ski barn are located across the street 20 meters from the Sigló Hotel. Here, you meet our guides and get fitted with skis/snowboards for your heliskiing/heliboarding holidays.
Our skis and snowboards are K2 only. At ski barn, you will find a wide selection to choose from. We have a fresh K2 delivery every year to be 100% sure about your safety and joy while heliskiing/heliboarding with us.
Below you will find all the K2 skis and snowboards we provide. The ski poles are included in the package as well. If needed, we can also provide helmets.
All K2 equipment, the same as BCA avalanche gear, is included in every package.
MINDBENDER 108TI MEN
The Mindbender 108Ti, is a planted freeride weapon, often featured atop Freeride World Tour podiums, it delivers versatility at any speed, in any conditions.
Equipped with a mid-fat waist, long turn radius and an All-Terrain Rocker profile the 108Ti comes together to create a stable, unflinching freeride experience. An elongated tail rocker keeps the 108Ti forgiving, yet stable enough to let you stomp any landing, and still plow through any untracked terrain. Vertical sidewalls deliver improved power transfer edge-to-edge, while its Titanal Y-Beam construction keeps things damp when speeds are high, and things get choppy.
At arguably one of the most versatile widths in the Mindbender family, the 108Ti's let you forget the forecast and focus on your line.
MINDBENDER 99TI MEN
The jack of all (freeride) trades introduces the Mindbender 99Ti — where a quick turn radius meets the effortless float of a 99mm waist. Strapped with Titanal Y-Beam Construction, and our All-Terrain Rocker profile, The 99Ti boasts the most well-rounded skill set in the Mindbender collection.
A gradual rise in the tip creates versatility in all conditions, and a low tail creates control in variable snow. The Mindbender 99Ti boasts equal parts agility and versatility. With the hard charge you'd expect from a narrower ski, the Mindbender 99Ti utilizes its Y-Beam construction to remain maneuverable underfoot. This freeride ski is the go-to model for confident ripping all over the mountain.
MINDBENDER 89TI MEN
When soft snow is in short supply, turn to the K2 Mindbender 89Ti men's freeride ski. Although it's built with the same Titanal Y-Beam construction and All-Terrain Rocker profile as its other metal-reinforced Mindbender siblings, the 89Ti stands apart thanks to a narrower waist width.
Its All-Terrain Rocker profile knows no bounds and keeps you nimble enough to navigate bumps, trees, and the occasional chop. The result is a ski that has the precise edge hold you need to dominate the hardpack but is still wide enough for forays into the ungroomed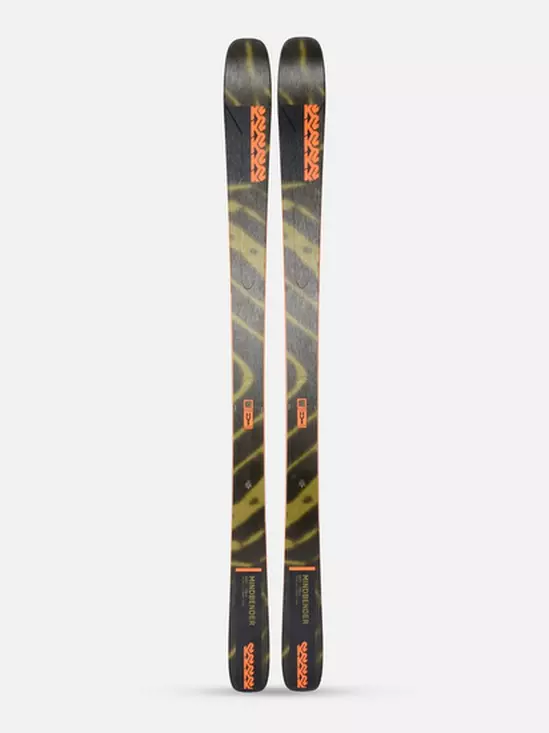 MINDBENDER 99TI WOMEN
The K2 Mindbender 99Ti women's-specific freeride ski is built for those who demand complete versatility day in, and day out.
Equipped with Titanal Y-Beam construction, the 99Ti offers a damp and stable ride for when speeds are high, and conditions get choppy. At a more versatile width, the Mindbender 99Ti still maintains its big mountain power.
The All-Terrain Rocker delivers added control and agility for when you find yourself in those tight spots. The 99Ti is the ultimate champion of versatility in women's skis.
MINDBENDER 89TI WOMEN
In typical Mindbender fashion, the women's 89Ti freeride ski has a classic construction with a powerful twist.
Strapped with our Titanal Y-Beam technology the 89Ti are equipped for a consistent turn entry and enhanced power transfer. The 89Ti's are optimized for hardpack performance with confidence-inspiring stability and a high-speed edge hold, while the All-Terrain Rocker profile still gives you the freedom to explore off the beaten path.
The Mindbender 89Ti W is the perfect companion for when you're in the mood to rip but soft snow isn't on the menu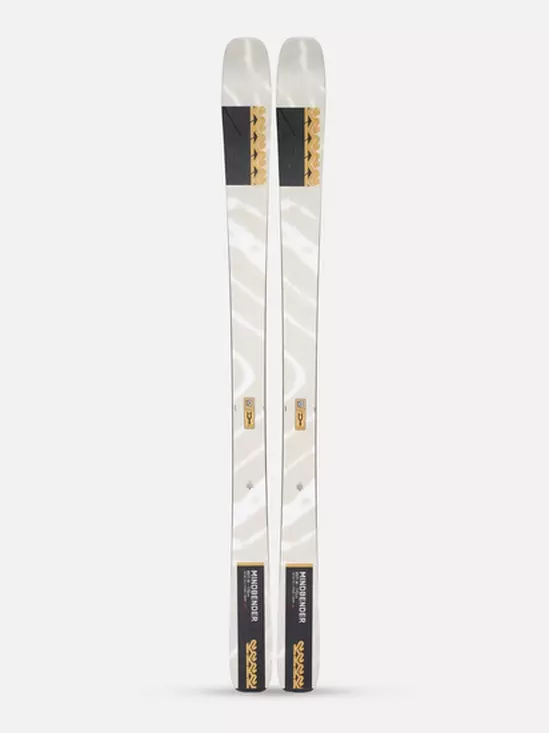 MINDBENDER 90C WOMEN
The Mindbender 90C W is a women's-specific ski for intermediate to advanced skiers looking for a lightweight option that's comfortable going beyond groomers.
Built with our Spectral Braid technology, the 90C W utilizes torsional control to remain maneuverable and energetic without sacrificing stability. Its Carbon Boost gives these skis added rebound in those agile moments. Our Aspen Veneer Core keeps you light on your feet, delivering a confident, agile carve anywhere on the mountain.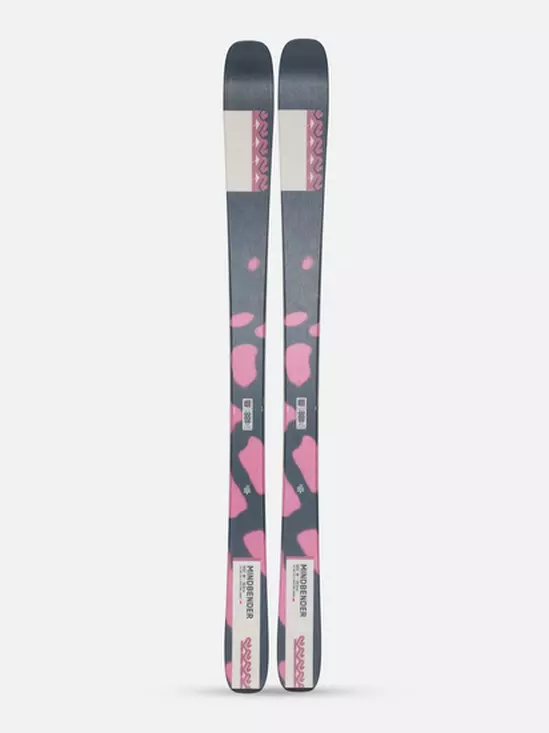 FULLUVIT 95TI WOMEN
The Fulluvit 95ti is primed to become a legend in the women's freeride world. Not every day is a pow day. Not every day is a perfect groomer day. Regardless of the conditions, the Fulluvit is well equipped to handle any snow condition on any day of the season. Our surfy all-terrain rocker camber profile allows the ski to pivot on a dime and float effortlessly in powder, and a metal laminate layer along with K2's BIOflex Konic core dials in the precision and stability needs for tight turns in trees and couloirs. If you crave performance and adventure at the resort or in the sidecountry, you need the Fulluvit 95ti in your life.

PINNACLE 105TI MEN
The Pinnacle 105ti is designed to attack critical lines, and the mid-fat width is perfect in nearly every condition. Titanal and K2 patented tri-axially braided fiberglass deliver stiffness and torsional rigidity, and early rise tips produce predictable effortless turn initiation in a variety of conditions. From mixed bag snow to knee deep pow, this is the one ski you'll never leave at home

ALCHEMIST UNISEX
The North Star in the K2 Snowboarding snowboard offering, and the marquee of the Landscape Collection, the Alchemist is a hard-charging, directional freeride board for a skilled rider.
Targeted to please the advanced to expert level snowboarder, the Alchemist is packed with functional technology. This snowboard features two unique technologies from the K2 camp; the SpaceGlass™ tip insert and the patented Spectral Braid. SpaceGlass™ is a pre-cured fiberglass insert that helps reduce weight, reduce chatter, and increase edge pressure.
Spectral Braid is a technology that allows us to adjust tip-to-tail stiffness independently from the torsional stiffness. This lets us make a torsionally stiffer snowboard in the tip and tail to promote edge hold while keeping it more relaxed between the feet to allow for easy turn initiation.
New for 2022-2023, K2 added their Recess3D technology to the nose of the Alchemist. This technology removes material from the board, adding a visual depth to the top sheet while helping to reduce weight and chatter without sacrificing strength.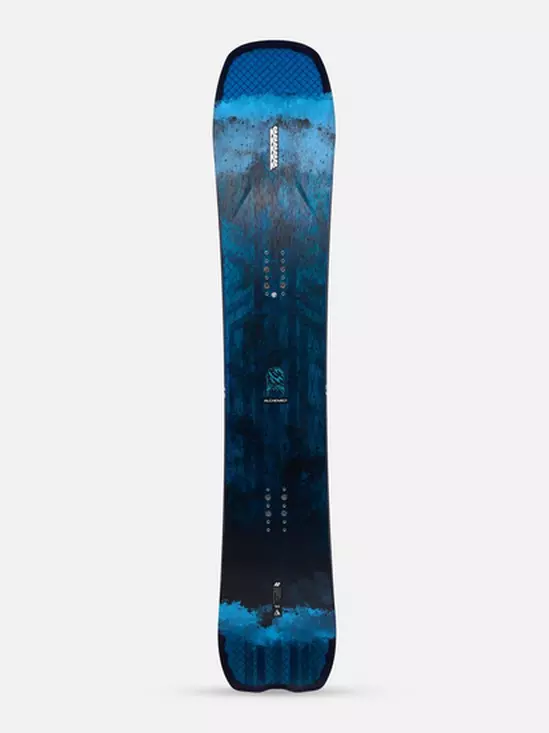 PASSPORT UNISEX
With so many mountains to explore, the Passport is the key to accessing uncharted terrain. The all-new K2 Passport snowboard is an inspiring addition to the line and the Landscape Collection.
Built for the intermediate-to-expert level rider and shaped and sized to be unisex, the Passport is directional in every way but remains switch and fakie friendly. Slightly-wider-than-average waist width is met width 8mm of taper to ensure easy turning and float in deep snow. It is complemented by an elongated rocker profile from the front insert pack throughout the tip. A tighter sidecut radius in the tip and tail allow you to engage turns easily, while a longer radius between the feet makes the turn smooth and predictable progression.
K2 added a new blend of ICG 10™ Triax fiberglass to the Passport, adding tip-to-tail snap with precise edge performance. This glass layup wraps our lightweight A1 core – which features three species of sustainably harvested timber, and all of it sits atop a fast and durable Sintered 4000 base.